Principle 10: Keep balance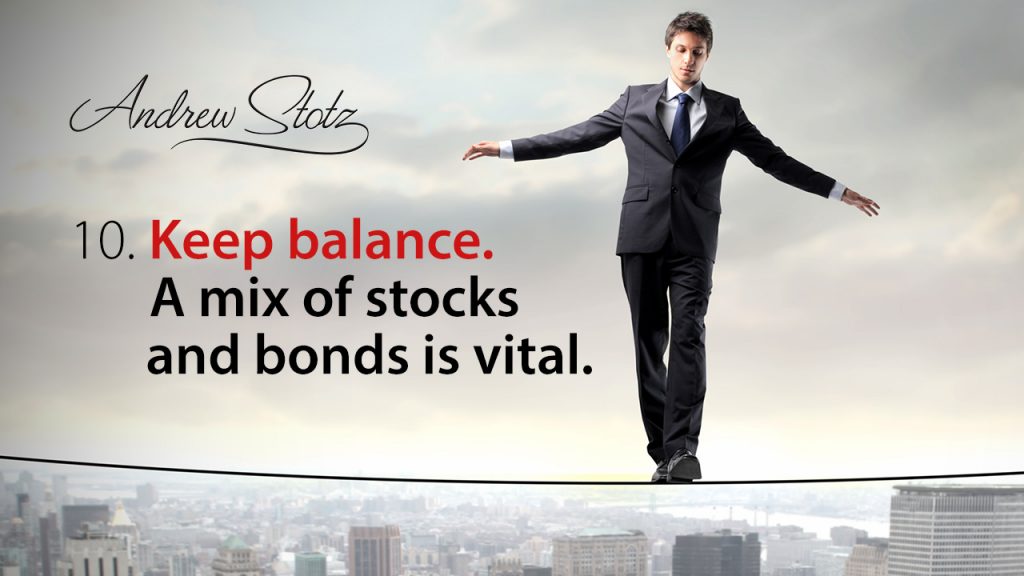 [dropcap background="" color="" circle="0″]S[/dropcap]imilar to the ninth principle on diversification, CFA Society Thailand president and valuation expert Andrew Stotz wants us to "drive with the safety of an airbag." His version of a financial seatbelt—owning 10 stocks at a time—may not always be 100% enough to keep your money safe.
Mr. Stotz stressed the need for an airbag, which in a financial sense pertains to having bonds as well as equity assets. While the potential gains may not be as high as equities provide over time, bonds help portfolios keep afloat during market crashes. In the 2008 financial crisis that affected most of the world, equities suffered the most. But if you had a balanced mixture of bonds and equities in your portfolio, you wouldn't have worried so much for your financial stability.
The stock market is unpredictable. No one can presage the gains or losses of tomorrow. Fund managers educated in the best universities in the world can offer no assurance that they can always shield your equities from losses.
The concrete advice Mr. Stotz gives us is to rebalance our portfolio every five years or so, to keep trading fees at a minimum, and at the same time, to refrain us from making wrongheaded, emotional decisions. The idea of rebalancing works as follows: Invest mostly in equities while you're young, then move to mostly to bonds as you approach your retirement.
"If equity rises dramatically, sell a portion and move it to bonds and vice versa," Mr. Stotz said.
Below is Mr. Stotz' recommended portfolio balancing act:
Lastly, I asked Mr. Stotz what he thought of getting a financial product called a "balanced fund" wherein some banks allow the automatic mixture of bonds and equities in one fund. He advised to keep them separate so as to give me "full control" when I need to rebalance them in the future.
Danielle covered the three-day university tour of Andrew Stotz in the Philippines from October 2 to 4, 2014. She will discuss each of Andrew's 12 investment principles from her perspective. All articles will be posted here on www.andrewstotz.com.