Who is Dr. Andrew Stotz, CFA?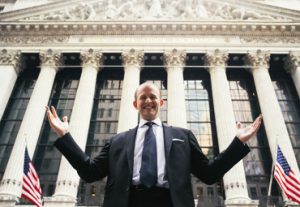 Andrew has a highly contagious enthusiasm for all facets of life. He has lived in Thailand since 1992 and has been a university lecturer and equity analyst here since 1993.  He is also an author, yoga student and wellness aficionado. He graduated with a PhD in Management Science and Engineering at the University of Science and Technology of China, a Bachelor of Science degree in finance and an MBA from California State University. During the two decades as an analyst, Andrew has written thousands of pages of equity strategy and company research. In fact, in his last year working for investment banks, he published 850 pages of research.
His final eight years in the business were spent as a head of research and strategist, managing research teams and writing regular strategy reports. Prior to Maybank Kim Eng, Andrew was the head of research at CLSA Thailand, was voted No. 1 Analyst in Thailand in the Asiamoney Brokers Polls for 2008 and 2009. He was also voted No. 1 Analyst in Thailand in the 2009 Institutional Investor magazine All-Asia Research Team Report. Meanwhile, his research team at CLSA Thailand was voted No. 1 in both of the above surveys and also in the 2009 Greenwich client survey.
Andrew has been a lecturer in finance for 22 years at various universities in Thailand. Since 2013, he has been the president of the CFA Society Thailand and is a member of the Advisory Board at Thammasat University's Business School. Andrew wrote his PhD in finance at the University of Science and Technology of China in Anhui province, with a focus on answering questions raised by fund managers and analysts during his career about picking stocks and managing portfolios. An entrepreneur and angel investor is two other titles applicable to Andrew.
He co-founded CoffeeWORKS Co. Ltd., Thailand's leading specialty coffee roaster since 1995, and remains a shareholder and its finance director. Andrew is also co-founder of A.Stotz Investment Research together with his business partner, Sornsak Kongcharoenpanich, a former senior VP at Maybank Kim Eng Securities.  He is also author of a book that explains Dr. W. Edwards Deming's 14 points for Management, called Transform Your Business with Dr. Deming's 14 Points.
---